TOURISM
---
TOURISM

The friendliest people in Africa.
Ages old culture, tradition and crafts, high mountain peaks, white water rivers and broad blue lakes.
Africa's Big Five in magnificent natural settings.
Malawi has it all...
GETTING TO MALAWI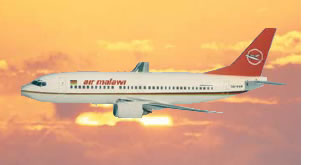 Airlines flying to Malawi to/from Europe:
Air Malawi (with Air Zimbabwe), KLM (via Nairobi with Kenya Airways), South African Airways (via Johannesburg) and Ethiopian Airline (via Addis Ababa)

African Airlines flying to/from Malawi
Air Malawi, Air Zimbabwe, Air Tanzania, South African Airways, Kenya Airways, Ethiopian Airlines

Airports
Most international flights land at Lilongwe, Malawi's capital, but several flights, especially those from Johannesburg and Harare, land at the business centre of Blantyre in the south.

Customs and Immigration
Officials try to make your arrival and departure as trouble-free as possible and baggage handling is efficient and fairly fast. The usual personal allowances are granted.
WHEN TO VISIT
Malawi is always beautiful. The cooler months (May to August/September) are more comfortable for travellers from the northern hemisphere, but the lush, green summer (November to April) is also a good time to visit if due care is taken to avoid mosquito bites. May and June combine the best of both seasons - cooler, still green with great visibility - and are especially good for photography. Country dirt roads are sometimes impassable to normal vehicles during heavy rains.

Game viewing is best in the hottest times of the dry season when the animals are forced to visit water sources, but the countryside is more attractive in the wetter, greener months. Bird watchers enjoy their best sightings in October and November. Check for school holiday dates, particularly for those in South Africa when more tourists visit Malawi and resorts fill up.
---